Do You Have Anxiety?
Anxiety is a natural wa y for your body to react upon stress. Stress can include, but is not limited to, beginning a new job, giving a speech, visiting the doctor, etc. An anxiety disorder forms from anxiety and is more serious since it is a form of emotional disorder. Although it is treatable, it is a very common mental illness present in the United States.
It is important to understand that getting proper help for anxiety disorders is normal. Many feel alone and misunderstood, hence only 1/3 of adults and 1/5 of teenagers suffering from anxiety disorders receive treatment. These low numbers are because anxiety is treated as "just let it go" rather than a serious disease.
Available online is a quiz to take for those who question if they have an anxiety disorder. Visit https://www.anxiety.org/what-is-anxiety#do-i-have-anxiety to find out if you should seek help today.
Many feel alone and misunderstood, hence only 1/3 of adults and 1/5 of teenagers suffering from anxiety disorders receive treatment.
There are many treatment options available to those who suffer. The most common being psychotherapy and medications, which go hand to hand with each other. The specific medications to treat a specific anxiety disorder can be discussed with your doctor, but listed below are a few examples of common medications prescribed and how our discount drug card can help save on these medications.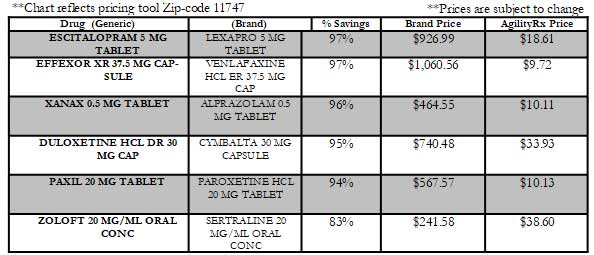 Disclosures: This discount plan is NOT insurance or a Medicare prescription drug plan. Members are obligated to pay 100% of the prescription cost to the pharmacy at the point of sale and the plan does not pay pharmacies for prescription drugs provided to members. The plan provides prescription drug discounts to members at participating pharmacies only. Drug prices fluctuate frequently and the plan's pricing tool is for informational purposes only. No enrollment or periodic fees apply. The discount plan organization is Agelity, Inc., 115 Broad Hollow Road, Melville, NY 11747, (866) 243-5489, www.Agilityrx.com. Customer service is provided by AgilityRx, Address: 115 Broad Hollow Road Suite 325 Melville NY, 11747, phone: 1-866-243-5489, web site: http://www.agilityrx.com. For a list of participating pharmacies visit: http://www.agilityrx.com.

Discounts are not available where prohibited by law. The plan is not protected by any state Life and Health Guaranty Association. Agelity has no liability for providing or guaranteeing pharmacy services or for the quality of pharmacy services rendered. Participating pharmacies are subject to change without notice and are not available in all areas. The plan is governed by the Terms of Agreement provided at this web site.

On average, members can save 20% on brand drugs and 75% on generic drugs from the usual and customary cash price of their prescription.

This plan does not constitute minimum creditable coverage under Massachusetts law.