What is Birth Control?
An oral contraceptive is a birth control pill taken by mouth, containing both estrogen and progesterone. The pill, if taken correctly (see directions of pill for more info), will prevent the ovary from releasing an egg for fertilization, or even simpler prevent pregnancy from occurring. The effectiveness of the pill is approximately 91% if taken correctly everyday. Some advantages that come along with taking the pill are that it makes a period shorter, lighter, and more regular. Another advantage is that is can decrease the risk of cancer of the ovaries and uterus.
The effectiveness of the pill is approximately 91% if taken correctly everyday.
Under recent changes of the Affordable Care Act's exceptions to no-cost contraceptive coverage, it allows the guidelines to bend and change to employers and insurers discursion. Employers and insurance can now cover or refuse to cover based on religious or moral beliefs and require members to pay out of pocket. If this is the case, take advantage of our FREE discount prescription drug card! Below is a few examples of a few oral contraceptives our card discounts for our members.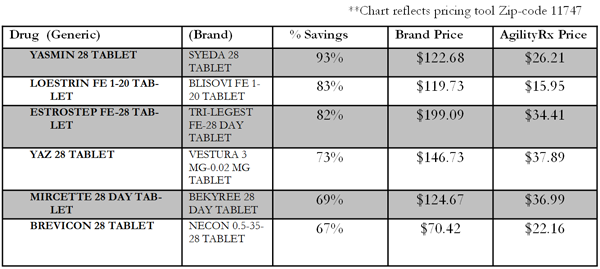 Disclosures: This discount plan is NOT insurance or a Medicare prescription drug plan. Members are obligated to pay 100% of the prescription cost to the pharmacy at the point of sale and the plan does not pay pharmacies for prescription drugs provided to members. The plan provides prescription drug discounts to members at participating pharmacies only. Drug prices fluctuate frequently and the plan's pricing tool is for informational purposes only. No enrollment or periodic fees apply. The discount plan organization is Agelity, Inc., 115 Broad Hollow Road, Melville, NY 11747, (866) 243-5489, www.Agilityrx.com. Customer service is provided by AgilityRx, Address: 115 Broad Hollow Road Suite 325 Melville NY, 11747, phone: 1-866-243-5489, web site: http://www.agilityrx.com. For a list of participating pharmacies visit: http://www.agilityrx.com.

Discounts are not available where prohibited by law. The plan is not protected by any state Life and Health Guaranty Association. Agelity has no liability for providing or guaranteeing pharmacy services or for the quality of pharmacy services rendered. Participating pharmacies are subject to change without notice and are not available in all areas. The plan is governed by the Terms of Agreement provided at this web site.

On average, members can save 20% on brand drugs and 75% on generic drugs from the usual and customary cash price of their prescription.

This plan does not constitute minimum creditable coverage under Massachusetts law.